Attention! If you decide to embark on this journey and make a purchase through a link, a teeny-tiny commission may come my way, while your pockets remain happily unburdened. ❤️
Link Whisper Review: The Verdict Good Golly Link Whisper Is Good!
Worried about your website's internal linking and SEO?
Properly linking your website's pages is one of the most important aspects of on-page SEO, but it can be hard to keep track of everything.
Not only do broken links hurt your website's ranking potential, but they also make your visitors feel like they're getting lost on your site. This can lead to a high bounce rate and a loss in potential customers.
With Link Whisper WordPress plugin, you can easily find and fix any broken links on your website and locate orphan posts – no need for extra plugins or tools.
Plus, it will help you find relevant link opportunities with link suggestions, so you can beef up your internal linking structure.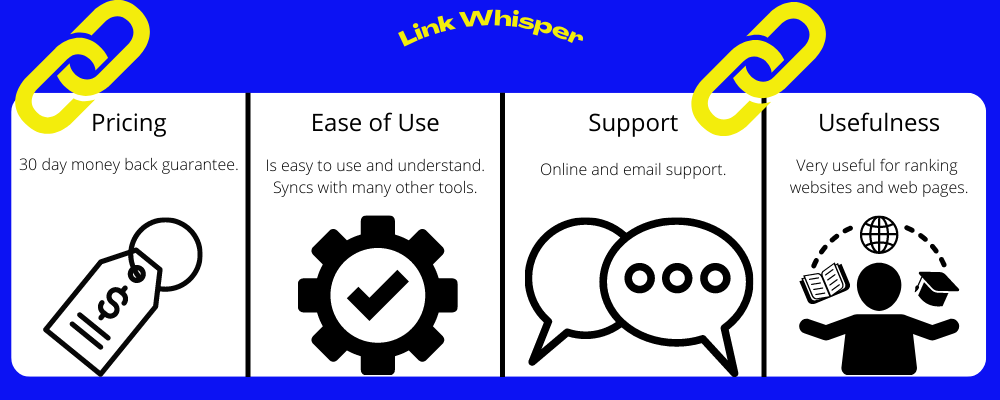 Link Whisper Review: Why Internal Links?
If you're a blogger, then you know how important it is to have high-quality content on your site. But did you know that internal linking is also important for SEO?
Internal linking is when you link to other pages on your site from within your content. This helps search engines understand the structure of your site and find new pages.
It also helps visitors navigate your site and find the information they're looking for.
Importance of Inbound Internal Links
Internal linking is a technique used to improve a site's visibility and ranking.
By including links to other pages on their website from within content, I have found that it can help google better understand the structure of a website and find new pages.
Internal linking also helps visitors navigate a website and find the information they're looking for. Additionally, internal linking can help improve a website's SEO by passing link juice (ranking power) to important pages on the site.
How to Use Internal Link Building
To use internal links effectively, you should include a link to other relevant pages on your site whenever possible.
You should also make sure that all of your links are working and properly redirect visitors to the desired page.
Additionally, you should use keywords in your anchor text (the text that is linked) to help improve your website's SEO.
Make sure you don't use it to make exact keyword matches when internally linking. That can cause keyword cannibalization and negatively affect your SEO.
The best practice right now is to get approximately 10-15 outbound internal links to pages that make sense.
Internal Linking Underrated SEO Strategy
If you're not using internal linking as part of your SEO strategy, then you're missing out on a valuable opportunity to improve your website's ranking potential.
Internal links help search engines understand the structure of your site and find new pages. But other tactics can be missed when not using internal links, like the skyscraper post.
This is where you gather a lot of external links to a huge post and internally link that post to a post you want to rank. The link authority then passes along to a money post or some other essential post for your site.
What Is Link Whisper?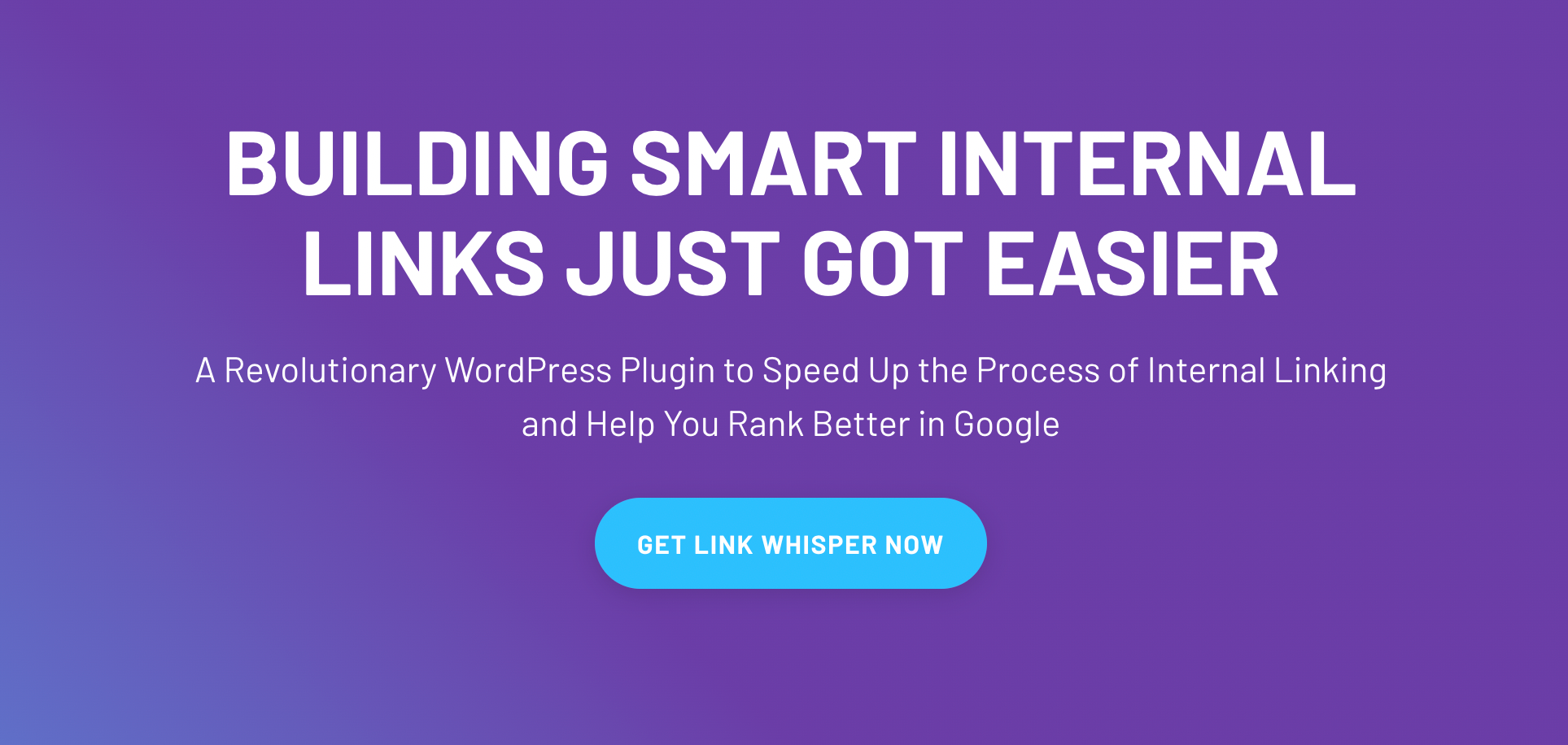 As any SEO expert knows, internal linking is essential for a well-optimized website. Not only does it help visitors navigate your site more easily, but it also tells search engines which pages are most important.
However, because manual link building can be time-consuming, many site owners opt to use link-building software like Link Whisper.
Link Whisper automates the process of internal linking, making it easy to boost your SEO without spending hours manually adding links.
In addition, Link Whisper also provides link-building features like link target selection and located orphaned posts, making it a valuable tool for any site owner.
If you're looking for an easy way to improve your site's SEO, Link Whisper is worth considering.
Best Internal Linking
Link Whisper
Link Whisper automates the process of internal linking, making it easy to boost your SEO without spending hours manually adding links.
We earn a commission if you make a purchase, at no additional cost to you.
Link Whisper Review: 7 Key Features Of Link Whisper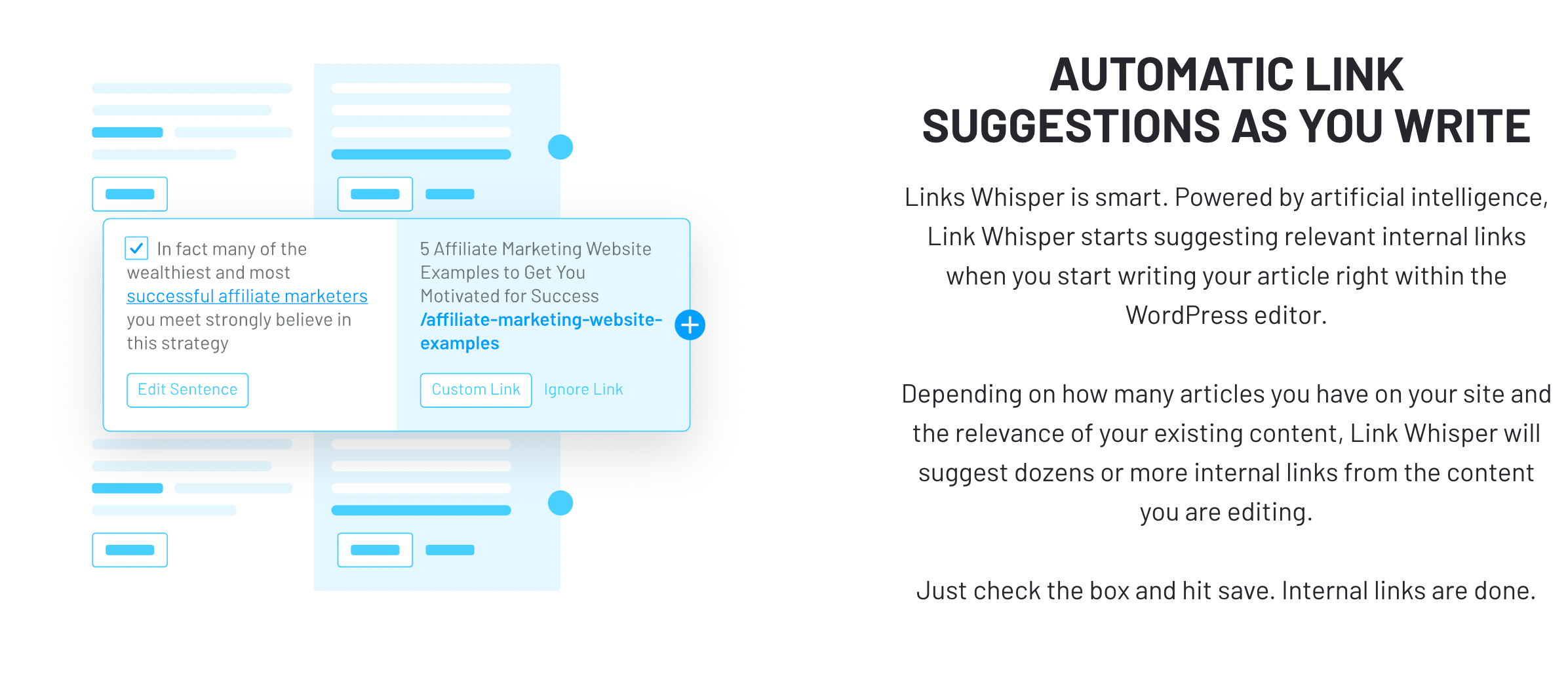 1. "Smart" Internal Link Suggestions
Link Whisper automatically analyzes your content to provide viable suggestions that improve both SEO and user experience.
Note: With Link Whisper, you're not limited to posts for internal link suggestions – you can add other custom post types, and even enable pages and attachments if you want.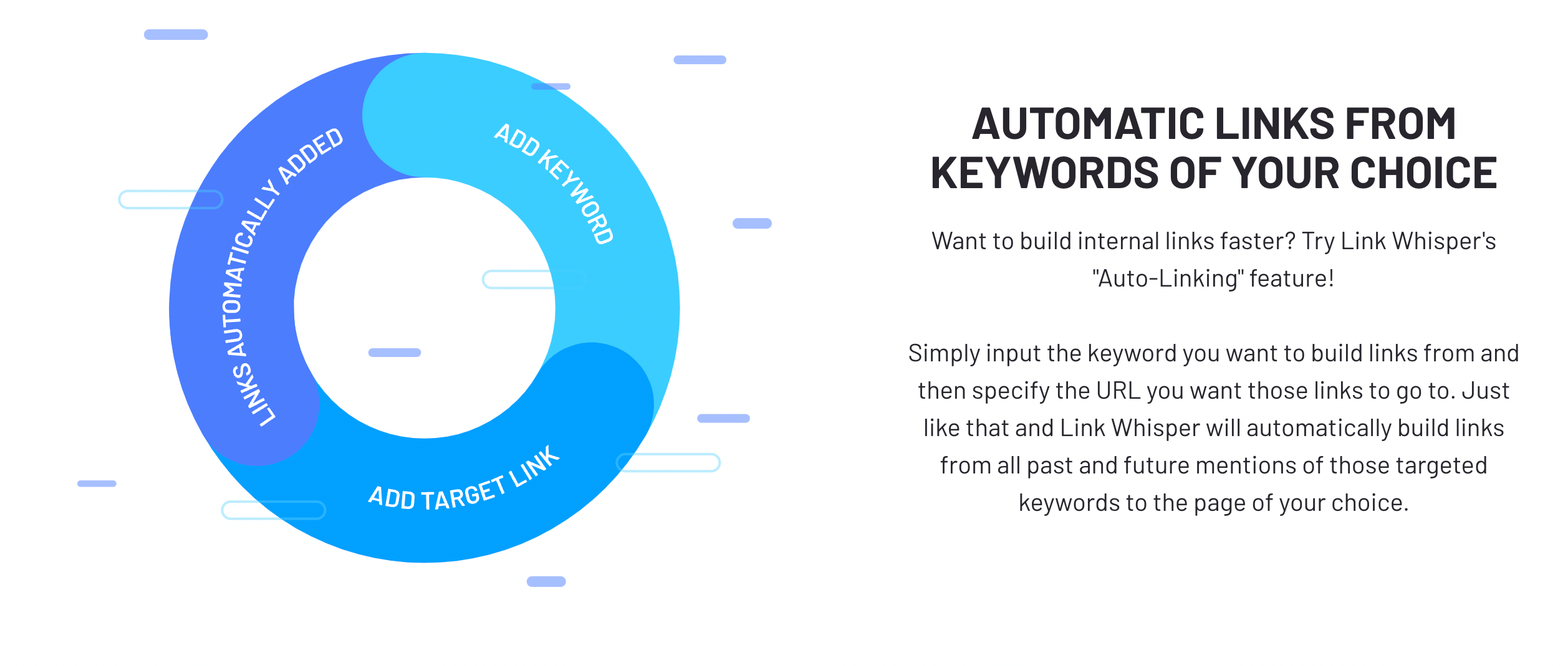 Furthermore, you have the option to ignore selected words and omit them from suggested anchor text or dismiss numbers altogether.
Here are some recommended words to exclude for affiliate sites:
Best
Top
Top 10
Top ten
Top [number]
Guide
Adding these terms will ensure that Link Whisper's algorithm does not consider certain terms for any internal links in the text. Interlinking just "best" makes no sense, for example.
2. Editing Anchor Text
Link Whisper doesn't confine you to using a certain kind of anchor text. It gives recommendations for what your anchor text should be, but it's fully up to you whether or not you use them. If there's a word (or multiple words) in the text that you want to change, simply click on it and edit away!
3. Change URL
This extension can be used to convert links with a 301 redirect when the old URL is changed. An ideal scenario would be if you migrated domains from a non-branded domain to a branded one. And now you want to update a lot of URLs simultaneously.
4. Auto-Linking
I don't recommend auto-linking because you have less control over the internal links that are produced. It's a function, though, if you want to use it.
You may further automate your internal linking process by choosing to link to a certain URL automatically whenever a specific term is used in your articles or pages. You can also limit the number of total links to a location.
5. Setting Target Keywords

For each blog post, you can pick a target keyword to rank for. Afterward, the plugin will then automatically generate suggestions for internal links that match that word or similar phrases.
6. Google Search Console Integration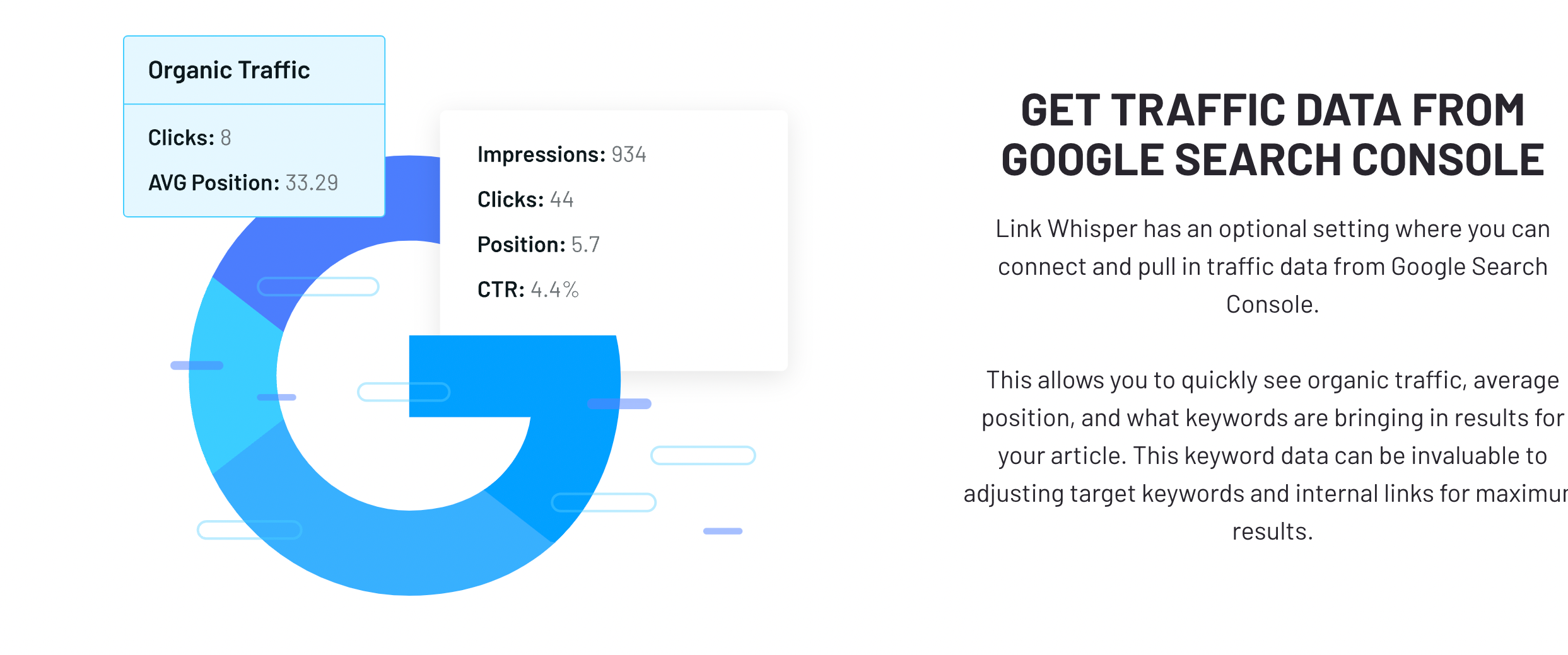 By integrating Google Search Console (GSC) with Link Whisper, you can import your keyword data from GSC directly. This way, you can add internal links for those keywords simultaneously. Other data that the integration makes available to you include:
CTR
Impressions
Clicks
Position
To link your Search Console to Link Whisper, go to Link Whisper's settings and choose "Authorize Link Whisper" next to "Connect to Google Search Console."
If you use the Yoast SEO or Rank Math plugins, Link Whisper adds target keywords from these programs to your active target keywords list.
7. Powerful Link Reporting
Link Whisper comes with a comprehensive link report that includes all the data you need to know about your internal links. With just a few clicks, you can export this data into a CSV file for further analysis.
The report includes the following information:

What I Like
1. Link Work Post Deletion
Link Whisper can automatically unlink any posts that are deleted, so you don't have to worry about links pointing to 404 pages.
2. Lightweight and Fast
Link Whisper is a lightweight plugin, and it doesn't slow down your site. I've tested it on sites with thousands of posts, and it works flawlessly.
4. Easy to use
Link Whisper is very user-friendly. Even if you're not familiar with SEO, you'll be able to use this plugin without any problems.
5. Compatible with Most Editors and Themes
Link Whisper is compatible with the most popular WordPress editors and themes.
6. Good Suggestions Offered

Link Whisper offers good suggestions for internal linking. The anchor text suggestions are usually relevant, and the plugin also does a good job of finding posts that are related to each other.
If it suggests an irrelevant text you can ignore it or edit the text from the link whisper suggestions.
7. Clean Links
Link Whisper inserts links into your articles in a way that doesn't look spammy. The links are underlined and have a different color, so they're easy to spot.
8. Good Team Behind It
The team behind Link Whisper is very responsive, and they're always working on improving the plugin.
9. Integrates with Google Search Console
Link Whisper integrates with Google Search Console, so you can import your target keywords directly from GSC.
Best Internal Linking
Link Whisper
Link Whisper automates the process of internal linking, making it easy to boost your SEO without spending hours manually adding links.
We earn a commission if you make a purchase, at no additional cost to you.
What I Don't Like
1. Cannot Delete Generated Links in Bulk
If you want to delete all the links that Link Whisper has generated, you have to do them manually one by one. It would be nice if there was a way to delete them in bulk.
2. No Follow-Up Post Function
It would be nice if Link Whisper had a follow-up post function, so you could automatically link to related posts after publishing a new post.
3. Basic SEO Knowledge Required
To get the most out of Link Whisper, you need to have at least a basic understanding of SEO. If you're new to SEO, you might not understand some of the options in the settings.
It's also important to have a general understanding of how to properly internal link posts to get traffic to the pages you want.
4. Generates Irrelevant Results At Times
Link Whisper sometimes generates irrelevant results, especially when it comes to anchor text suggestions.
How does Link Whisper Choose Anchor text for internal links?
Link Whisper chooses anchor text for internal links based on several factors, including:
The target keyword you've chosen for the post
Your SEO title and meta description
The content of your post
The title of the post you're linking to
The target keyword of the post you're linking to
How often the target keyword
What If You Uninstall The Plugin?
When you uninstall Link Whisper, all the links it has generated will be removed from your posts. However, the plugin doesn't delete any data from its database, so you can always reinstall it and pick up where you left off.
Best Internal Linking
Link Whisper
Link Whisper automates the process of internal linking, making it easy to boost your SEO without spending hours manually adding links.
We earn a commission if you make a purchase, at no additional cost to you.
link whisper pricing Plans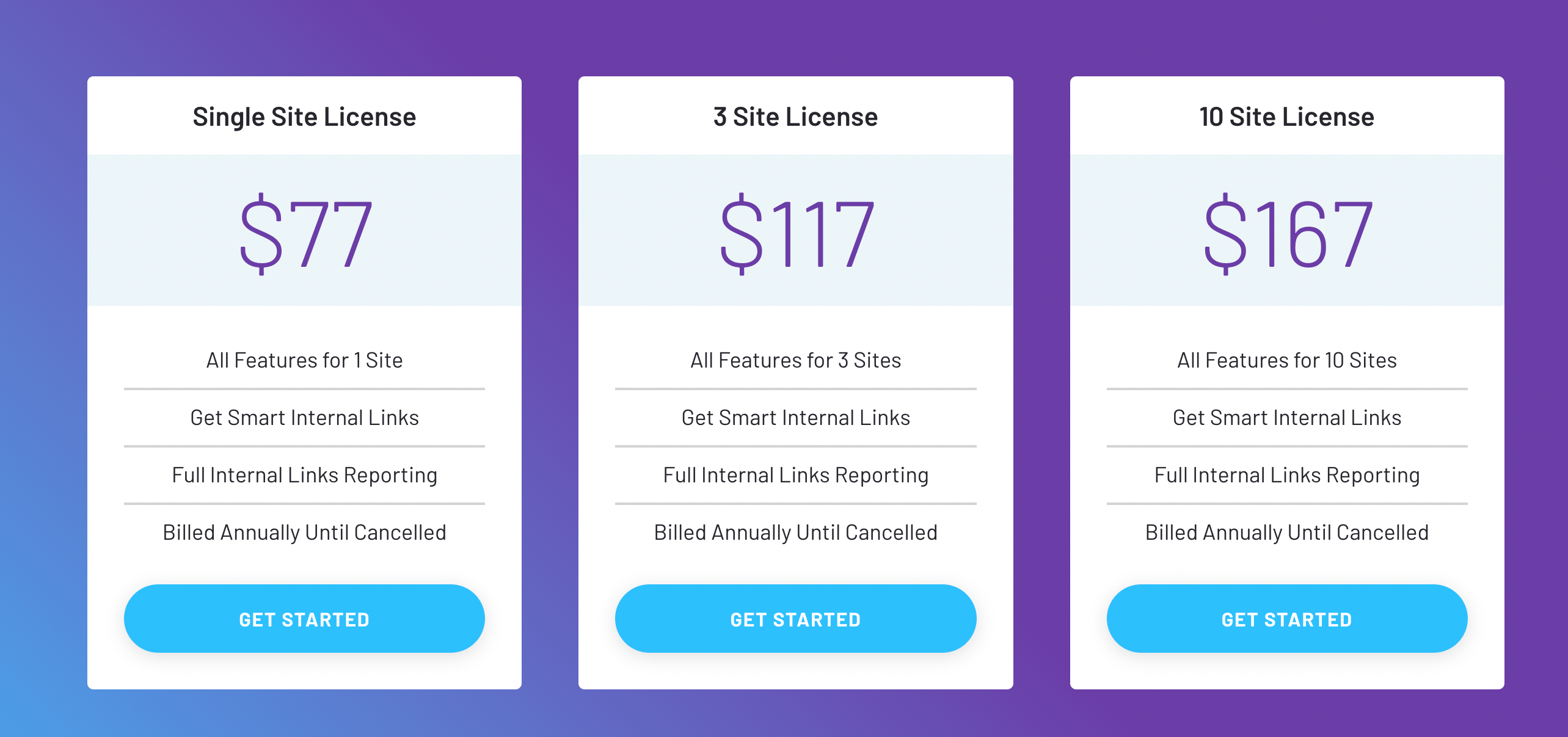 As shown in the pricing table, a single-site license for Link Whisper costs $77 per year. The 3-site license is priced at $117 annually and the 10- site license costs $167 per year.
All of the plans offered by Link Whisper come with access to all features included in the plugin.
The plugin costs a little too much, but it's well worth the money since it can save you time and assist you to improve your SEO.
Link Whisper is for bloggers, website builders, SEO companies, and other similar bodies. You're aware that the automated internal linking procedure may save you a lot of time.
From this point of view, Link Whisper's pricing appears reasonable and is based on the number of websites you operate. Choose the plan that best suits your needs!
Link Relevance
Link Whisper looks for related posts and suggests internal links to them. If there are no related posts, it will suggest internal links to popular posts on your site. You can always ignore the suggestions if you don't want to link to a particular post.
Page Building Compatibility
Link Whisper works with all popular page builders, including Beaver Builder, Divi Builder, Elementor, thrive themes, and SiteOrigin Page Builder.
Website Speed With Link Whisper
Link Whisper doesn't slow down your website, even if you have a lot of links. The plugin is optimized for speed and won't affect your page load times.
Support
The support team is responsive and always willing to help. They're also quick to fix any bugs that are found in the plugin.
4 Steps To Use Link Whisper On A New Site
As a Digital Real Estate Investor, there are some simple use cases I use Link Whisper for.
1. Bulk Internal Links
I've acquired sites with hundreds of pages of content. When you first get a new website, I have no idea what everything on the site is about. Link Whisper allows me to quickly find and add relevant internal links to each piece of writing.
Without this tool, studying each article and then manually adding internal links would take months. Normally you would need to go through
If you've recently acquired a website, these are the steps that you need to take to add internal links to specific pages:
Go to WordPress post editor.
Scroll down to the bottom section titled "Link Whisper Suggested Links."
You will find a lot of internal link suggestions that could be added to the post with their location and anchor text in the form of a sentence.
Check the boxes next to the sentences
Choose the "Update Post" button
The internal links will update into the previously suggested anchor text (which you can edit)
2. Removing External Links
Since controlling your external link juice is crucial, it's great that this plugin allows you to see exactly where you're linking out. You can then go into each post and delete links as necessary, in turn conserving that sweet sweet link juice.
3. Locate Broken Links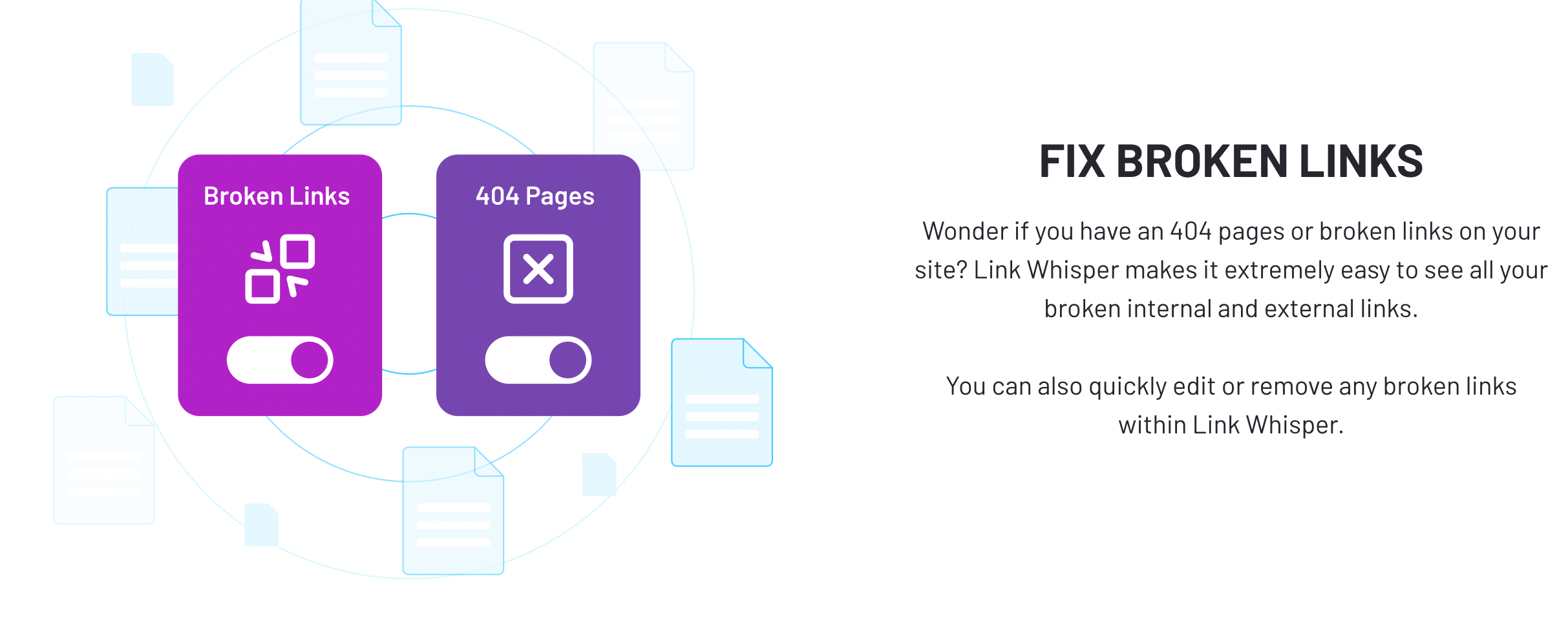 Link Whisper helps identify broken links within articles, then you can take the appropriate action to remove the links or update them.
4. Find Those Orphaned Articles
Orphaned posts are those that don't have any internal links pointing to them, which is bad for on-page SEO. Most niche website builders neglect this when constructing websites, so it's an opportunity for you when considering purchasing one. Link Whisper provides a report identifying these posts so that you can then add the appropriate number of internal links.
My Link Whisper Process for Optimal Use
This is the process I follow after buying or building a website with lots of articles:
Get Link Whisper on a premium license
Start an initial scan
Read the Link Stats
Move onto Links Report
Add Internal Links to high-value pages – (Typically post on the first page of google)
Focus on adding links to orphaned posts
Fix all broken links
Remove any poor external links
Add internal links to the remaining pages (I like 10-15 links pointing to related post)
Depending on your website's size, this process could take anywhere from a week to a few weeks. For example, a site that has 800 articles, could take weeks to complete while making sure each article was properly linked and tracked.
Bottom line: Link Whisper Review
Link Whisper is one of the most essential plugins for any WordPress site, whether it's a brand new website or an established one. The plugin makes it easy to find and add internal links, remove external links, fix broken links, and more.
If you have a WordPress site, I highly recommend getting Link Whisper. It's a great tool that will help you with your on-page SEO and topical authority.
Click here to get Link Whisper today!
Before you go…
(This is an affiliate link, so I may get a commission if you purchase through my link. This doesn't cost you anything extra, and it helps me keep this site running. Thank you!)
Link Whisper Review FAQs
Is Link Whisper Worth It?
Yes! Link Whisper is a great tool that will help you with your internal linking and topical authority.
What Are The Benefits Of Using Link Whisper?
The benefits of using Link Whisper include improving your on-page SEO, increasing your topical authority, and finding and fixing broken links.
What Are Some Of The Features Of Link Whisper?
Some of the features of Link Whisper include the ability to find and add internal links, remove outbound external links, fix broken links, find orphaned articles, and more.
How Many Outbound Links Should A Post Have?
There is no definitive answer to this question, as it depends on the topic, the length of the post, and other factors. However, as a general rule of thumb, you should aim for 1-2 outbound links per post.
Will Link Whisper Help Me Rank Better In Google?
There's no assurance that just because you start employing Link Whisper, you'll rank higher in Google. However, utilizing the smart link suggestions from Link Whisper may guarantee positive results for your rankings, so you should notice an increase in traffic if you use them.
What Languages Are Supported Besides English?
Link Whisper was built primarily for English websites. However, they have added support for many other languages including Spanish, French, Portuguese, German Dutch, and Polish as well as Russian. You can find the full list of supported languages on link whisper. Also, note that more languages may be added per customer request.
Is There A Money Back Guarantee?
If you don't like Link Whisper, they will give you a full refund within 30 days of your purchase.
Best Internal Linking
Link Whisper
Link Whisper automates the process of internal linking, making it easy to boost your SEO without spending hours manually adding links.
We earn a commission if you make a purchase, at no additional cost to you.
Latest posts by Conrad Golly
(see all)